From the "Meh - I'll read it but I don't know if I'll like it enough to review it" category to the "Laughing out loud and reading every other page to the person next to you" we have: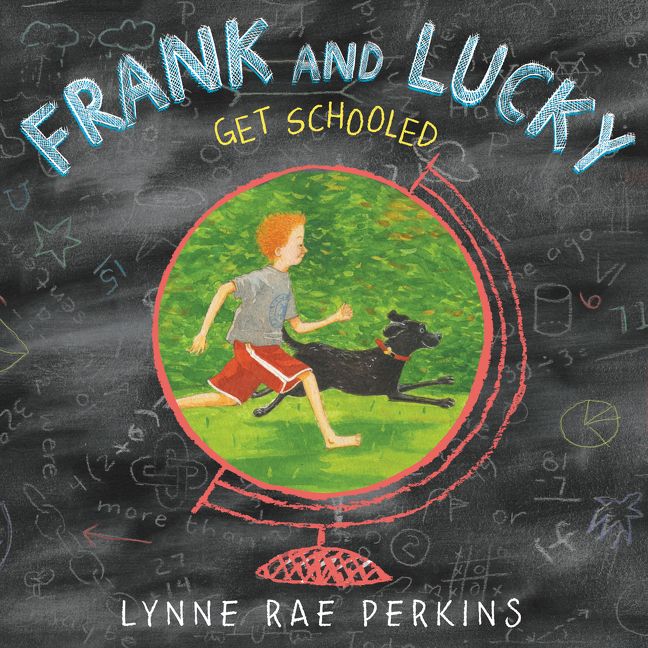 9780062373458
In fact, I somehow ended up with two copies of this title, and I am absolutely keeping one of them for my own library!
On a rainy day, Frank's parents take him to the shelter to get a new dog. That's how Frank finds Lucky, and from that moment on, they're inseparable. As Frank and Lucky venture out into the world around them, they discover they both have a lot to learn. Exploring their neighborhood teaches them about biology: Lucky learns all about squirrels, deer, and—unfortunately for Frank—skunks. Sharing a bed teaches them about fractions—what happens when one dog takes up three-quarters of the bed, or even the whole thing? They even learn different languages: Frank makes a friend who speaks Spanish and Lucky tries to learn Duck! Who knew you could learn so much without ever setting foot inside a classroom?
I was hooked from the first lines:
"One day when Frank could not win for losing, he got Lucky. And one day when Lucky was lost and found, he got Frank."
The first sentence is illustrated with pictures of Frank having a terrible, horrible, no-good, very bad day. The second is illustrated with a lost dog in the middle of traffic, saved by a kindly police officer, but then scared and alone in a cage. As a family involved with animal rescue, this immediately hit home. In fact, that second copy may have to go towards a fund raiser of some sort. Maybe.
Frank and Lucky are wonderful friends, and this book is all about the things they do and learn together (they are both, after all, young pups, with much to learn.) There is science*, reading, history, and math:
"It's shedding season. Is the amount of hair a dog sheds in one week;
a) > (more than)
b) < (less than)
or
c) = (equal to)
the amount of hair the dog started out with?
The answer is "a >." (More than. Much more than.)
How much hair does the dog have left? The same amount as before."
It is hiLARious all the way through, and sweet, and I can't believe how much actual information and vocabulary is imparted so seamlessly!
Did I mention I loved this book? I loved this book.
Maybe I'll just keep both copies.
*TEENSY tiny criticism: tomato juice does nothing for skunk spray. Use Woolite. Trust me.


***This book has been nominated for the Cybils Awards, and I am a first-round panelist in this category. There are many other panelists, and many MANY other great nominees, so a good or bad review here does not necessarily predict placement on the shortlist.