I'm back! I took an unannounced vacation from blogging, after a week's vacation from work left me with about a month's worth of catching up. Isn't that how it always seems to work out? Things are happening at the library, from our new portable STEM cart (a.k.a. Ami's new toy) to the search for a new reference librarian (final interview today). Preschool programs started up again this morning with a good sized crowd of 35, and we are dusting off our zombie gear for class visits and a mannequin challenge! (What...don't YOU dress as a zombie to visit middle schools?)
Publishers seem to be back in the swing of things as well, and my TBR pile is growing. So, without further ado: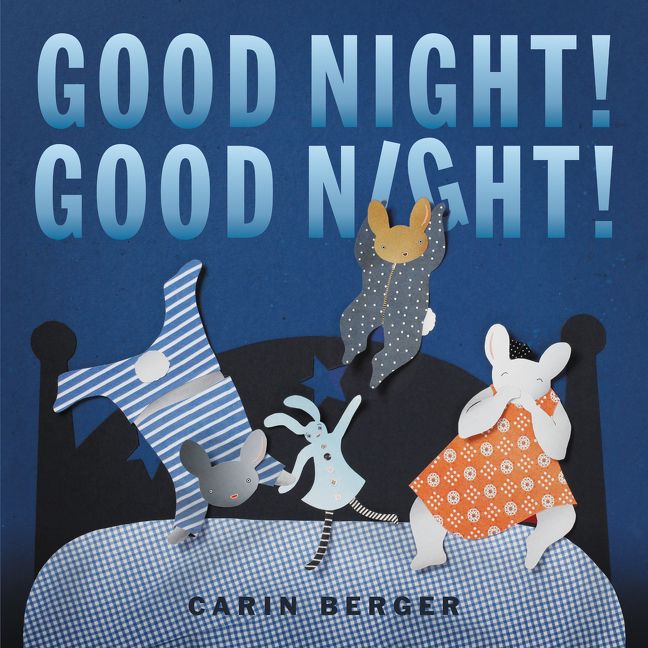 9780062408846
$17.99
Stories about children stalling at bedtime will never get old, because MY CHILDREN WILL NEVER STOP STALLING AT BEDTIME. Sure seems like it, anyway! Berger nailed my youngest with the one-more-hug, but I'm hesitant to read this to him and give him more ideas. Good-night dances? Good-night monkeys??!
Each stalling technique is added to the list along the way, making this easily interactive in a story time, or before bedtime at home. Mommy tries to balance firmness with fun, and at last everyone is tucked in for the night.
I love the cut paper illustrations - images like these always make me want to get out my wallpaper scraps and scissors and start crafting scenes. That would be a perfect art extension, along with talking about ways to show singing, dancing, jumping, etc. A little art and the human form lesson, perhaps?
Definitely an early favorite for 2017! And you can check out two other books written and/or illustrated by Berger
here
and
here
.