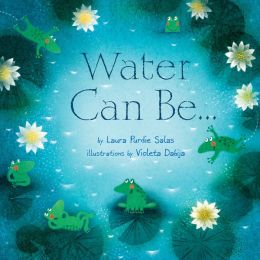 9781467705912
It can be hard to find a nonfiction book that works well as a read-aloud, but this one does quite nicely. We may just have to work it into this coming Summer Reading program, "Fizz, Boom, Read!"
Salas suggests many forms and uses for water in short rhyming phrases - "Cloud fluffer...fire snuffer...school drink-er...bruise shrinker." Each word pair is illustrated in warm, rich tones by Dabija, from a whimsical drawing of kids playing in a sprinkler, to dark waves crashing over a ship in the ocean. Good for both casual reading and in classroom lessons.
Thank-you to Millbrook Press for the review copy.