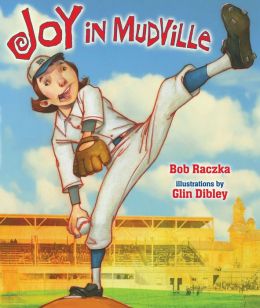 9780761360155
"It had been only twenty-four hours since Mighty Casey struck out, plunging fans of the Mudville team into gloom and despair. But a new game day dawned, and Casey once again proved his might with a homer in the eighth. The Mudville nine took a one-run lead, but in the bottom of the ninth, their hurler walked three straight.
Bases loaded and the starting pitcher spent, the Mudville manager was not bullish about his bullpen. With the game on the line, he called for rookie Joy Armstrong to take the mound. Could she bring joy to Mudville again—and prove that a girl can play ball as well as any boy?"
Not a picture book to be taken seriously. Children will want to know if it really happened (no, it didn't), and those literally minded children will want to check into whether women could play in the major leagues...or if you could really bat a ball like you are playing tennis and get it to the batter's box...and then there's the rather obvious lesson (boys screw up, but girls can fix things effortlessly and make them look even dumber. Oh, wait, that wasn't it?)
On the other hand, it's a cute, light story, with plenty of funny moments. The pictures are lively, with a few oddities to notice (Joy has blue nail polish to match the uniform, and the umpire's outfit changes with each sport she imitates). If your intention is to spark a discussion of stereotyping, this can get you going nicely - and hopefully astute children will realize it is shown both ways here.
Thanks to Carolrhoda Books for the review copy.