I don't read, much less review, biographies very often, especially biographies of movie stars. I requested this title, however, in an I-can-admit-when-I'm-wrong moment: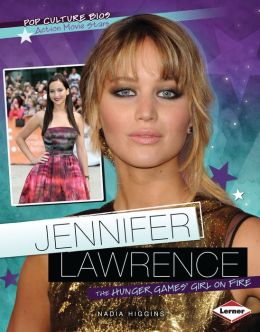 978-146-770-7435
Like many rabid Hunger Games fans, I waited anxiously to see who would be chosen to play Katniss in the movies. In the midst of all the whitewashed book covers, I really wanted to see someone of a non-white ethnic background (the physical descriptions of Katniss would lead the reader to think slightly Asian). When Lawrence's selection was announced, and I did an internet search to see who the heck she was (sorry, Ms. Lawrence!), my first reaction was an outraged shriek of, "A BLONDE???!!!"

Well, I don't have to tell anyone how amazingly she carried it off, and reading this short biography, I get a glimpse of why.

In addition to her acting talent, Lawrence grew up in a family that seemed determined to prepare her for doing stuntwork - two older brothers who tortured her as only brothers can do, riding unbroken horses without a saddle. Not quite the stereotypical blonde cheerleader type (although, yes, she was a cheerleader, too!)

I found the biography a quick, refreshing read, and I know it will be snapped up off the shelves as soon as I get it in the system. Plenty of pictures from movies, red carpets, and Lawrence's childhood, to satisfy any fan. Thank-you to Lerner for the review copy, and let the (second) games begin!