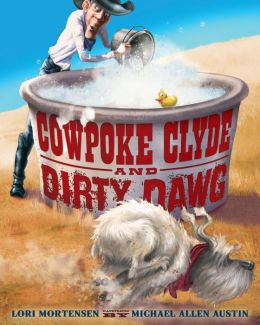 978-054-723-9934
Cowpoke Clyde has scrubbed his house and shooed the horseflies out. He's ready to kick back and relax with a pot of soup, when he realizes he forgot ol' Dawg. Not a problem, he'll just give him a quick wash...right?
Anyone who has ever tried to give a dog (or an impish toddler) a bath will have a clue as to what happens next. Dawg is gone - and, so is the soup! A merry chase ensues, with all the ranch animals getting involved (whether they want to or not).
Illustrations by Michael Allen Austin, from Dawg's shaggy fur and fleas to the astonished pig's wide eyes and pinched lips, are the perfect complement to Mortensen's bouncy rhymes. I defy anyone to read this without a twang in their voice!
Cowpoke Clyde will definitely be added to my read-aloud list, and I may just have to plan either a cowboy or bath time story time around it. You can run out and grab yourself a copy or order it online starting TODAY!
Thank-you to the author for the review copy!