Not only is April National Poetry Month, but this Thursday, April 18, is national
Poem in Your Pocket Day
. Participants of all ages are encouraged to keep a copy of their favorite poem in their pocket, and to take it out and read it to people they encounter throughout the day. Ideas for activities can be found by clicking on the link, but to get you started, allow me to suggest one of my favorite poets: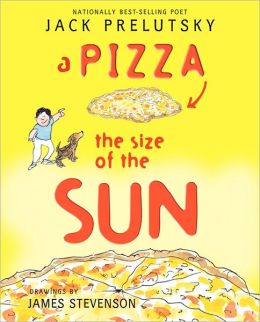 978-006-2239501 978-006-223-9518
Boh recently re-released by HarperCollinsChildrens, these collections contain much of the best of Jack Prelutsky, silly poet extraordinaire. Even the smallest pocket can fit a chestnut like:
Sardines
Their daily lives are bland,
and if they land -
they're canned.
Or, if you want something more fun to read aloud, see how the lines of The Underwater Wibbles trip off the tongue. When I trained young students to be English teachers in Ukraine many years ago, I made them memorize and recite Jack Prelutsky poems as part of their midterm exams. They had a choice - go with something safe and easy, and get a passing grade, or go for the extra credit points of the tongue-twister, Don't Ever Seize a Weasel by the Tail (not included in these collections, unfortunately).
Besides being wodnerful tools for teaching those tricky English sounds, Prelutsky's poems are great for tucking into lunch boxes, or refocusing students after recess. They are just plain fun and timeless! Pick up a copy of either of these for your elementary school student, and watch it quickly become dog-eared and worn.
Thank-you to HarperCollins for the review copies!
For more great nonfiction books, check out today's Nonfiction Monday round-up at
NC Teacher Stuff
(I want the
Animal Geometry
book!)