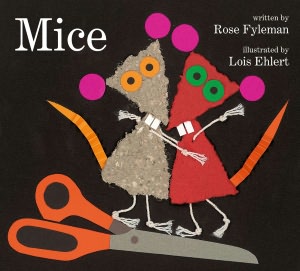 978-144-245-6846
Ah. Dorable. The old favorite by Rose Fyleman, "I think mice are very nice..." is given new life with Ehlert's cute-as-a-button (and a piece of string and a scrap of paper) mice. They react quite personally, not to mention comically, to each line - flossing to take care of their white teeth, for example. Ehlert's signature multi-media collage illustrations offer plenty for children to examine, making this perfect for both a read-aloud and a read-alone, even if your little ones aren't actually reading yet!

978-158-246-3704
This is one of those books sure to fire up your kids' creativity. I finished it and immediately wanted to go out and look for rocks with interesting shapes! Not only does it feature a rock in the shape of every letter of the alphabet, McGuirk also has a rock (or two or three) in the
shape
of something that starts with that letter (the one for "x" is AMAZING!)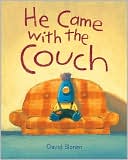 978-081-184-4307
Quirky is the word I will use here. This is a very quirky little book. I knew I would like it when I saw the first pages. I couldn't find an image of them online, but; picture a crazy-haired blonde child sitting in a tree, looking on as a sofa with muddy paw prints, holes, and
flames
shooting out of it, comes hurtling out the window of the house. The facing page says, simply, "Our family needed a new couch." YA THINK?!
I have already seen some cute classroom extensions, including having the couch critter tell why he would be a good family member. We'd take him! We already have the crazy-haired blonde child and the destructive dogs, thank-you.