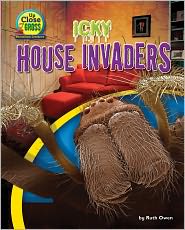 978-1-61772-124-3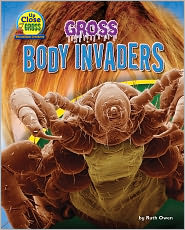 978-1-61772-127-4
Excuse me while I scratch. I suddenly itch. Everywhere. I don't have lice. Or bedbugs. Or eyelash mites. But I itch.
Actually, according to these books, I wouldn't know it if I had eyelash mites, but I'm pretending I didn't read that part, because it just makes me itch more. And, if you can get past the psychosomatic physical reaction to these cover photos, these are really entertaining books. Huge, colorful, many-times-magnified photos of hookworms and dust mites will grab the attention of any reluctant reader, and the text is just the right amount of information to keep that attention while imparting some useful information. A good addition to any elementary library or classroom, or a great gift for any youngster whose mother isn't squeamish. Or itchy.
This series also includes the titles "Creepy Backyard Invaders" and "Disgusting Food Invaders", but I am not reviewing those, because I am on my way to go pick up a pizza, and I don't want to know what could be anywhere near it.