The History Speaks series from Lerner is an interesting concept: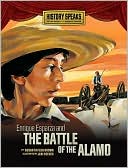 9780822585664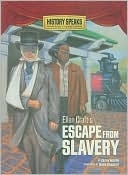 9780761358756
Each starts out with a picture book story based on an actual event in history, but then the story is broken down into a reader's theatre script. Along with author's notes, glossary, pronunciation guide, realted web sites, etc., these would be a great addition to a classroom, IF - and there's just no nice way to say this - they were written well. The stories in the two I read were stilted and dull. They put me in mind of very old school readers with moralistic stories. A shame, because the topics themselves are interesting - I had never heard of the Crafts, and another one in the series (
President Lincoln, Willie Kettles, and the Telegraph Machine
) has me googling to see what that's all about. I expect more from Lerner.
A much better offering is
Sarah Emma Edmonds was a Great Pretender
, by Carrie Jones.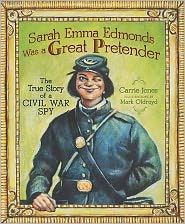 9780761353997
The illustrations by Mark Oldroyd are interesting - if I hadn't read
Why Gender Matters
recently, I might not have noticed it, but they are mostly done in colors that attract boys' attention. The main character, of course, is a female, but she is at times disguised as a boy...or as a boy disguised as a girl...or as a white man disguised as a black woman disguised as...wait, I got lost. Jones, however, manages to relate all Edmonds' twists and turns in a manner that young readers can follow. I think this one will appeal to both boys and girls in the elementary grades.
A note on the cover, since I only have a picture of the front (doesn't the face make you think of a Steven Kellogg illustration?): the back cover shows the back view of Edmonds, dressed in a skirt under the military jacket, with parasol in one hand as her fingers are crossed in the other. Cute, very fitting idea for this book.
And, back to one I didn't like: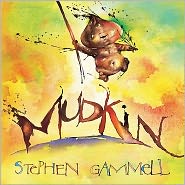 9780761357902
In this largely worldess picture book, a young girl goes out to play in the mud after a rain. A strange blobby creature emerges and invites her to become the queen of the...er...mud people. Whether he calls his fellow blobs the mud people or something completely different is unknown, because he speaks entirely in mud splotches, and we have to extrapolate what is said.
This is one of those stories adults look at and pronounce adorable and clever and brilliant, while kids...lose interest five pages in. My 5yo hated it. He's a picture kind of guy, but he did not like having to figure the story out through the wordless middle, and as a beginning reader was beyond annoyed with the mud splotches. Here at the library I've had similar reactions - one little girl did like talking about the pictures and making up the story, but didn't like the pictures themselves very much - knowing her, I'd say it was the lack of color. Of course, mud is brown, and I wouldn't suggest changing that, I'm just saying it doesn't seem to attract kids the way some of Gammell's other books (
Monster Mama
,
Timothy Cox Will Not Change His Socks
) have.
Finally, swinging back the other way, we have a book with great illustrations: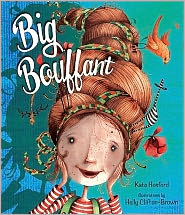 9780761354093
Definitely a girlie book (yes, I'm stereotyping today), with beautiful pictures by Holly Clifton-Brown (think
Annie Hoot and the Knitting Extravaganza
). Young ladies will enjoy just looking at the pictures, picking out all the details - and spotting the young man who is never mentioned, but obviously quite smitten with our heroine. Not as funny as
Stephanie's Ponytail
by Robert Munsch, which follows the same theme of originality, but a fun read-aloud - just practice beforehand to get the rhythm down.