I'll be honest, I don't review too many junior readers. It's not that I don't get sent any to review, it's more that...I just can't think of anything to say about them. Unless they are authored by a certain Willems fellow, they all seem to blend together these days.
And then I read this one: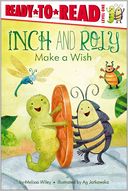 JR WILE
$15.99
9781442452770
Too. darn. cute! So many junior readers just seem to be a collection of words from an approved vocabulary list, forced into a semblance of a story line. Refreshingly, Inch and Roly and their friends are some cute characters* having a fun day, in a short story that just happens to be easy to read. I broughtthis one home yesterday, and have already been asked for repeat readings. I can't wait for
Inch and Roly and the Very Small Hiding Place
, due out in January, as well as any future Inch and Roly adventures.
*Illustrator Ag Jatkowska, of course, deserves much of the credit for their cuteness. I spent quite a bit of time on her
web site
yesterday, and had to resist the sudden urge to completely redecorate S.'s room with her artwork. Gorgeous! And so refreshing after some of the mediocre fare that has crossed my desk lately.
And yes, I know I used the word "refreshing" twice. And cute three times. This is why I don't write books myself - I just sigh over books from those who can!