I realize that, despite what certain retail stores would have us believe, Halloween is still 8 weeks away. In the world of libraries, however, I'm actually a little late in looking for new Halloween books to order - so, this set of review copies from HarperCollins came just in time!
I'll start with a familiar face:
BB NUME
978-069-401-4293
$6.99
Mouse has seven pumpkins to decorate, and as he gives each a different expression, he mirrors them himself (love the sad mouse!) He also makes a nice big mess along the way, which mirrors what my house can look like after a decorating spree. As you might guess by the title, while the cover picture is easily identified as a Jack-o-lantern, the book never mentions Halloween, trick-or-treating, or anything related - making this a great seasonal choice for teachers under the no-Halloween-topics constraints.
The second selection, unfortunately, fell flat for me:

978-006-210-0115
$4.95
No call number, because I won't be adding it to the collection. The story line is forced and awkward, with the feel of a junior reader trying to become a picture book by simply adding more words. This makes sense of a sort, as there is already a junior reader series starring Mia and her friends which has received better reviews. I have not seen any of those to compare yet, but this one I'm afraid will be relying on its ballerina theme and "full page of stickers" to sell to little girls, and is not destined to become a favorite read-aloud.
This last one, however, just made it onto my story time list: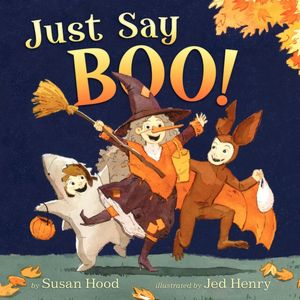 E HOOD
978-006-201-0292
$12.99
If the ghosts in the trees wibble-wobble your knees, what do you say?
BOO!
Words like "wibble-wobble" were just made to be said aloud, the rhyme scheme will sweep up your listeners, and the "BOO!"s (with a couple fun change-ups) make for an obvious audience participation. The illustrations are full of little touches that will make this a great one-on-one read-aloud as well. Since this will be the first year of trick-or-treating for my two youngest, I will be checking it out early on, to...er...practice at home for the Halloween story time! Definitely the best of the bunch.