'Tis (almost) the season to get serious about your gift shopping - unless you are one of those people who are already finished (yes,
Miss Amanda
, I am talking about you). I love giving books with related gifts - for example, C. is getting a book about ocean animals, along with an ocean craft kit. As I share books with you over the next few weeks, I will try to also suggest a gift you can give with the book. And don't forget, the library here will be hosting a Scholastic Book Fair from November 28-December 6, so you can finish up your shopping AND get free books for the library at the same time!

E Tull
How clever! On the first page, the reader is asked to press on the yellow dot. Another yellow dot appears next to it. What happens if you press again? What if you rub on one of the dots? Tap on it? Tilt the page? Clap your hands? A fun little interactive book that you will have to read over, and over, and over! I'm taking this one home tonight, so you'll have to wait until tomorrow to check it out:)
Gift Idea: Bingo markers! (You know, those little bottles full of colored ink that make little round dots) A ready-made, age-appropriate art activity. Just make sure you put them up when not in use, or you may end up with polka-dotted walls...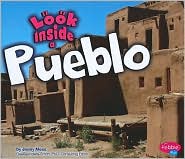 JR Moss/JR Schu
This is a series, written by two different authors, that also includes a tepee, castle, igloo, log cabin, and pyramid. Beautiful pictures, simple text, good description of the construction of each, as well as what they might have contained in the "olden days". My only issue with them is that I wish they said, "Look Inside an ANCIENT Castle", or "Look Inside a Pueblo LONG AGO". Know what you'll see if you look inside a pueblo today? A TV. A microwave. Maybe a laptop. People still live in all of these types of houses, but they often have the same modern 'conveniences' you have in your own home. Books like this are a bit misleading, and I know at least one Native American blogger who is going to be all over them!
Gift Idea:
See if there's a log cabin/pueblo/etc. near you open for tours, and make up a gift card for a trip together at some future date. Then talk about then vs. now!
J 630.9173
Urban agriculture is big these days - a combination of the economy, the desire to eat healthy, a backlash against mage-stores, and a longing for simpler lives. This is a nice little book that touches on the ways people in a community and plants and animals can all work together. It is more inspirational than instructional, and I defy you to read it and not want to go out and plant something. Or buy a chicken. Or set up a beehive. But, wait - it's November! No matter, there is a lot to be done before any of those steps, so:
Gift Ideas
: A pad of graph paper to plot out your future garden. A set of plans for a chicken run you will build together. Basic cookware to prepare your future produce.

J B Khatun
Love, love, love this series! In the Thinking Girl's Treasury of Real Princesses, Shirin Bridges relates the lives of some lesser-known, but powerful and fascinating women from different parts of the world. No dry reading here: Qutlugh Terkan Khatun, for example, was so beautiful she was kidnapped several times, before becoming a ruler credited with bringing "a golden age of peace and prosperity". In addition to looking at what made each of these women special, readers learn about the food, fashions and politics of that era.
Gift Idea:
Pair this with some fancy dress-ups for your princesses, then read the books together to remind them that being a princess is more than pretty clothes (but the clothes are still awesome!)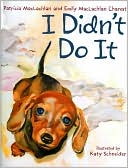 J 811.54
This pairing's "Once I Ate a Pie" is still a favorite of many dog lovers, and they won't be disappointed in the puppy version. If you have ever had a dog, you will recognize it in at least one of these perefct poem and picture combinations. "No Name" made me laugh out loud at the end, but "Big" has to be my favorite.
Gift Idea:
Well, my mother does have a busy little puppy ready for a new home...but, the holidays are not the best time for new pets. Maybe a stuffed dog and a promise to think about it? Or, give this to an adult who already has a pup or two, along with some toys for their furbabies. It's the kind of book that can appeal to any age!

E Will
Yay for more Mo! This very easy reader comes in 'chapters', so your little reader can feel very grown-up. One of Willems' best, I think. Favorite line of the year: "Amanda was reading her new library book
You Can Make it Yourself: Jet Packs!
when she noticed her alligator chewing on her head." If you are not familiar with Mo Willems, get thee to a library NOW!
Gift Idea:
A stuffed alligator would be obvious and appropriate, but you want to go high-tech*,
this app
sounds like a lot of fun!
*I won't even carry a cell phone, so to me, apps are high-tech.
J 510
Hey, I'm a big fan of anything that means I can eat while I learn, and I'm guessing your kids are, too. There are several books out for the younger crowd that involve food and basic fractions or counting. This one is for the slightly older set, with Fibonacci numbers and tesselations.
Gift Idea:
A basket with the ingredients for one of these recipes (as simple as a couple boxes of brownie mix.)
Stay tuned for more book reviews and gift ideas as we start going through the book fair cases! In the meantime, check out the
105 Ways to Give a Book
at MotherReader (best blog subtitle ever).