A while ago we instituted a rule that we will make time to do something as a family at least once a week. Not always easy when you have people in so many different age groups, doing so many different things! When all else fails, we do a movie night, taking turns picking movies we liked that the whole family hasn't seen. This weekend, Daddy picked "Crocodile Dundee".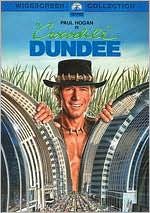 I was happy, because I like to make a meal to go with the movies, and Australia was a little bit easier than, say, the night we watched Parenthood. That, in turn, gave me something to keep Christopher occupied with in the kitchen, while the carpet was going in in the living room. He helped me cook, and when there was something I had to do by myself, he looked at some of the many books we have from the Library about Australia. One even mentioned the movie!
We started with a pork chop and apple dish I found on the internet. That posed a small problem: we had to disconnect the internet when we took the furniture out, and of course I didn't print the recipe out. I remembered the first part, but not the sauce ingredients. A phone call to Grandma solved that problem - and prompted her to start thawing pork chops so she could try the recipe herself!
The other two parts of the meal I got from this book:

Pumpkin soup was a no-brainer, since I still have tons of canned pumpkin from last year. I liked it more than I thought I would, but I think it will be better with bread. I have some in the bread machine now, and that will be my lunch in a little bit.
For dessert, we had lamingtons, which you can see on the bottom right of the cover (and in several of the books we looked at.) They were pretty easy to make, and look fancy enough that they may appear at a pot luck soon. You start off with either yellow cake or lemon (we used lemon), which you bake as usual and then cut into squares:
I lined the pan with foil to make it easier, but there were still plenty of crumbled-off bits to sample.
Dip them in a sauce of 3 c. powdered sugar, 1/2 c cocoa, 4 T melted butter, and 1/2 c boiling water. I used two forks, but if you use your fingers, you get to lick them later. I won't tell!
Roll them in coconut. This step posed another problem, because I discovered I was out of coconut. I always have coconut! Grandma to the rescue again.
If you aren't eating them right away (and you know you have to test one), put them in the fridge to firm up. These would look really pretty on a nice plate, and would make people think you spent hours. I have also seen the recipe made with a layered cake, with sort of a jellied or cream filling in between layers - but I'm not that ambitious!