When I was in middle school, several of my friends and I were obsessed with a paperback series called "Twilight". Mostly mediocre 'scary' books by a range of authors. My favorites by far, and in fact, the only ones of the series I still remember, were two by Bruce Coville -
Spirits and Spells
, and
The Amulet
. I was so in love with
Spirits and Spells
, for Christmas I asked for a gold bracelet similar to one that figures in the book.
My tastes in literature haved changed a bit, but I still adore Bruce Coville.
Jeremy Thatcher, Dragon Hatcher,
has a permanent place on my all-time-favorites list. I was very excited, then, to see a new book by Coville included in a review packet from HarperCollins: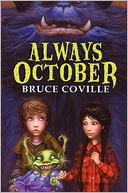 J Fantasy Covi
978-006-089-0957
$16.99
No doubt about it, little brothers can be monsters. When sixth grader Jake Doolittle finds a baby on the doorstep and his mother decides to keep it, those words are more than just an expression. Instead, they perfectly describe the way his new little brother, LD, sprouts pointy ears, thick fur, and fangs in moonlight.
Not only is LD a monster. . . . other monsters have plans for him. But together with his friend "Weird Lily" Carker, Jake isn't about to let anything happen to the baby. The little guy is still his brother, even if it turns out that LD may be the key to saving the world—or destroying it.
Soon Jake and Lily are on a perilous quest through Always October, a world populated with monsters ranging from the venomous to the ridiculous. Master of comic suspense Bruce Coville presents a tale of ominous dangers and hairbreadth escapes, of the conflict between forces of dark and light, and of the lengths to which one boy will go to save his brother—monster or not.
One of Bruce Coville's many talents is that he makes his reader, particularly a reader in the preteen age group, want to be one of the characters in the story. You identify with the characters, even if they are nothing like you. I don't have the insecurities or idiosyncracies of Jake, but I do when I'm reading his parts. My brain is not wired the way Lily's is (wish it was!), but I sure feel smart when it's her turn. And, as I said, you WANT to be them, you want to be part of the adventure they are on, and that's a powerful skill for an author of children's books to have.
My only qualm is...I can't determine for sure whether this is part of a series or not, and it needs to be! It doesn't say anything on
Bruce Coville's web site,
or on the HarperCollinsChildrens pages (where you can, however, find some cool
printables)
. The book wraps up a lot of loose ends, but leaves plenty of opening for further adventures. A good solid choice for your elementary or middle school library, either way!